The timeline of bringing on new business is a long one. It involves a lot of Q&A calls in order for clients to become comfortable enough with an agency's process to form a partnership. In that vetting process, two questions always come up: How do you bill, and are you a Google Partner in Google Ads? While negotiating a pay structure is important, judging the competence of an agency based on whether or not they're a Google Partner is like saying Ace Ventura is a good driver because he has a license.
The Google Partner program was originally designed to offer agencies support on optimizations and campaign management to drive performance. Over the years, agency support has taken a nose-dive. It has now become just a sticker on an email signature. Full disclosure, Media Two has been a Google Partner longer than I've been an employee. It's not something that we strived to do or shout from the rooftops. It just happens to be the case because the criteria are easy to meet. There are three criteria in order to become a Google Ads Partner.
Criteria #1
"Your company's Google ad spend must be at least $10,000.00 and is evaluated based on total ad spend during the last 90 days." That's pretty clear-cut. You just have to know how to launch a campaign.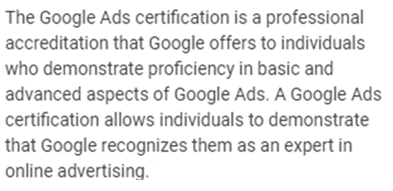 Criteria #2
"Your company needs to have at least 1 affiliated individual certified in Google Ads." Fun Fact: did you know you can search any of the certification questions and get the answers? The Google Ads certifications are all free and can be taken an unlimited amount of times until you pass. It's an open-book exam that turns anyone into an "expert".
Criteria #3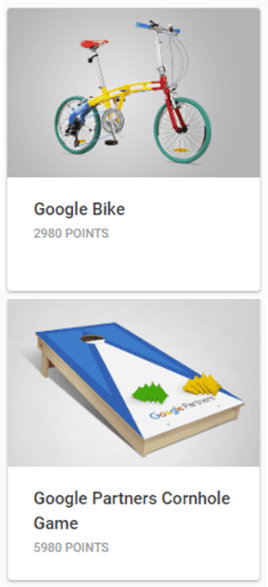 "Performance is based on the revenue growth and retention of your company's clients, and your company's growth in overall revenue and number of advertisers." This means an agency has seen growth in spend and the number of clients in Google Ads.
Being a Google Partner means that the agency spends more than $10,000 in Google Ads, an employee googled the answers to the certifications, and the agency is pushing as much spend in Google Ads instead of other platforms. That's it. That's all the criteria. Notice they're missing something. There's not a single criterion of account performance outside of spend. Shouldn't a Google Partner be judged on the return they show for a client? Instead, it's based on how much money agencies can get clients to spend in the platform. So, what's the benefit of pushing more spend in Google Ads? Is it additional targeting opportunities? What about a dedicated agency rep with years of experience to help drive a lower CPA? Nope, not even close. The agency gets a bike and cornhole boards.
The next time you reach out to an agency to manage your media investments run for the hills if the first thing they talk about it is how they're a Google Partner. Instead, challenge them to produce case studies on how they improved their clients' performance across any platform. Great agencies and media buyers are able to replicate success across any paid media channel. They don't need an open-book exam to prove they're an expert. They prove their worth in the success that they drive for their clients.